I admit to being oddly mesmerised by people's signature look: everyone has one, even if it is a different look every day - it still is bound to have the use of your regular technique.... Or if you deny this, prove it!! I want to know your tips and tricks and the way you feel your features most benefit from your makeup. In return, you'll get a selection of makeup, haircare, nail care, trinkets and Topshop accessories (well it is my favourite shop after all, and I need to distinguish myself from all the other billion contests going on right now, n'est-ce-pas?) - as picked by me and as sponsored by haircare expert
Erryn
. Erryn's blog is so packed out with tips that it's literally changed the way I act on my haircare and hopefully has already shielded me from a multitude of hair disasters.
Please browse her store,
Erryn's Health and Beauty
to decide what you might spend
$50
on.... because yes, that's something you'd do if you win first prize! But that's not all, you'll also get the Guerlain Kiss Kiss Laque lipgloss I've been loving, GOSH Darling lipstick, China Glaze nail varnish... the list goes on below - scroll down for photos too!
Anyway hopefully this video will explain all:
Here is the list:
FIRST PRIZE

$50 Voucher
to
"Erryn's Health and Beauty"


Guerlain Kiss Kiss Laque lipgloss (shade 721 Purple Star)
GOSH Darling lipstick
Mavala "Deep Blue" nail varnish
China Glaze "Shower Together" nail varnish
Essie "It's in the bag" nail varnish
Creative Nail Design "Solar Oil" nail treatment
Creative Nail Design block nail file
Tigi "Rockaholic Shine Blaster" hair treatment
Trucco "Jewel" in "
warm iridescent rose
"
Jewelled heart double sided compact mirror
Professional tweezers
Trucco retractable lip brush
And... Topshop
- Flower brooch
-Leather/bead flower bracelet
-Dangly sparkly earrings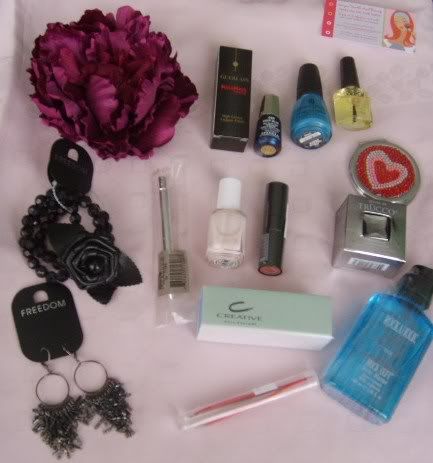 SECOND PRIZE

Paul Mitchell Colour Protect trio: includes Shampoo, Conditioner and Reconstructive Treatment
Joico reconstructive hair treatment
Barry M nail varnishes (in "Bright Pink" and "Fuschia")
Trucco lip pencil in "Soft Plum"
2 Handbag sized hand moisturisers, one Jasmine by O.P.I and one Blackcurrant and Fig by Creative Nail Design
Topshop flower brooch
Topshop polka dot bow earrings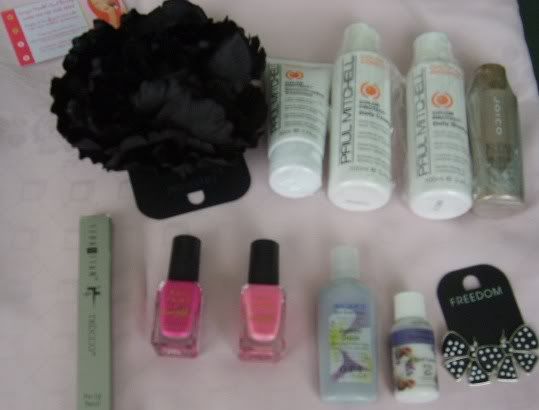 THIRD PRIZE
2 new pairs of false eyelashes (each has little glue tube inside)
Lip polish by Graham Webb
An assortment of samples from Erryn' store, includes specialist shampoo, cream, Trucco lip gloss etc
Topshop zip star wallet keyring
Topshop hairband with silk flower detail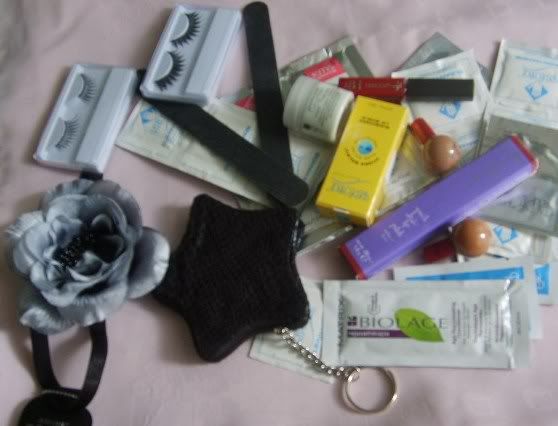 ** CONTEST WILL RUN UNTIL 7th JUNE!!!! **
GOOD LUCK AND PLEASE ENTER!