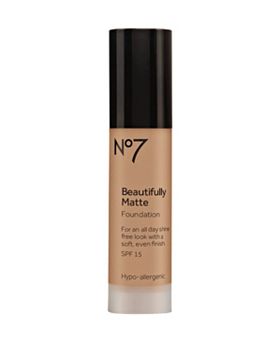 This foundation deserves a solid 7 out of 10, especially if it is what you are looking for: matte finish and oil free. I tried it because I am an avid fan of Estee Lauder Double Wear [henceforth ELDW] although I have enough backups to last my lifetime, which is just as well as I hear they have reformulated it now - how dare they?! Nowadays my favourite way to apply is to mix ELDW with EL Spotlight, which gives me all the oil controlling benefits but with a dewy finish. But I digress. OK so this Boots Beautifully Matte [henceforth BM] is described by many as similar, but for a reasonable price - around £12. A poor man's DW? Well no, it is better than that. Regardless, I wouldn't buy it.
I would actually say if comparing it to the EL stable, it reminded me more of the creamy and equally as popular and amazing EL Maximum Cover foundation. The BM is a very similar mousse-like texture, a lot more creamy than DW. Those who complained DW was 'paint like' will love the way this blends. The shade I got is the palest, Calico. It starts off almost mauvey grey and very ashy but once it hits the skin it settles nicely. However, I still find EL shades a lot prettier and more uplifting. This makes me look very dull and flat, there is no luminosity whatsoever in terms of the shade itself. However the finish is what you may call luminous. The oil control capability is simply not in the same league as DW. (Note that I do admittedly refer to the original ELDW, which supposedly has now been ousted by a sub standard imposter, so the comparison might be unfair...) BM does not exacerbate my oiliness so in that sense it is triumphant - as many foundations make me super shiny and look hideous after a mere couple of hours. But, it doesn't hold up all day, probably 4 hrs; possibly 6. For the price difference though, I think it is indeed to be applauded. I must criticise it for making pores and dry patches stand out. This is easily rectified with some powder. I used Guerlain's pressed meteorites mattifying and illuminating powder, to give my face life again as well as make my skin look poreless.
All in all, it's a good solid option but a poor substitute for ELDW and not anywhere near good enough for my exacting standards. Close but no cigar. Well worth a try though. Personally, for me foundation has to be utterly pitch perfect otherwise everything fails, but I can see this working for many and it's certainly a great standby option. Kudos for the pump bottle.
Swatch of calico:
Blended out:
..Have

you

tried it? Let me know your thoughts!