If I may say so, I have always been very precocious when it comes to makeup and skincare (I'm sure most of us here can say that!) and I'm obviously convinced I could equally be a world-renowned makeup artist or a dermatologist (haha yes, again, don't we all) but, I was recently wondering whether us beauty junkies are all that elite after all...?
Whilst at university, all those aeons ago, before ebay, I remember scouring the net for a microdermabrasion tool. I found one on an American website, very expensive - plus I was stung by a horrific customs duty on top, plus it was an absolutely useless device, with a rubbishy foam sponge - but the point is - now that same exact device is available at my local drugstores, and microdermabrasion and skin resurfacing are words everyone is familiar with due to the adverts we are now subjected to.
Granted, combining science with cosmetics is nothing new. But nowadays, as a consumer we don't want to be patronised, we want to have the active ingredients that dermatologists and dentists have, and the finesse that profesional makeup artists have. Current adverts will attest to that.
Although it is only a matter of time before an actual makeup makeover programme hits (UK at least), we have a plethora of makeover shows which always feature a segment on makeup and hair improvement. TRESemmé has become a massive success to its tagline "Professional, Affordable"; MaxFactor has capitalised on its longevity by proclaiming "The Makeup of Makeup artists!" and hiring the celebrity mkeup artist du jour, Pat McGrath to devise face charts for their campaigns: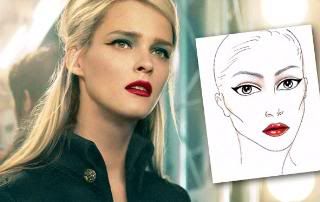 So, I wonder... how long before traincases, palettes and proper brushes become the norm? Isn't it about time a TRESemmé type initiative hits the makeup world? I suppose E.L.F comes closest to this idea, perhaps Coastal Scents too - but really, there still seems a void. The metal palettes should no way cost as much as they do, ditto the brushes (just compare the price of paintbrushes to realise the mark-up!)
Cosmetics traditionally weather financial storms, however WWD reported that even beauty sales dropped by 3% in 2008 compared to 2007. Perhaps the feeling that 'plus ca change...' is all too true when it comes to the cosmetics available at your local shopping centre. I think the time is ripe for a makeup artist canon for the masses!
Traincases, palettes, refillable tubs, spatulas, petri dish... too much for the masses, or is it time for the makeup revolution?
What would you like to see
change in the makeup world? What do you want in your shopping experiences ...

Do you feel satisfied with current collections or would you want more

'innovation'
too??