You'd be hard-pressed to find a bigger fan of men in makeup than me. Maybe I shouldn't admit it, but there it stands.
However on a recent trip to check out Illamasqua, I was served by an overtly bitchy guy in drag. Did he feel he had to be that way to complement his ostentatious fake lashes and glitter? I could tell he was viewing me as a corporate slave, by dint of my rather austere coat and boots and generally sober garb (it was a weekday). I felt uncomfortable and ended up going on a Trish McEvoy haul instead.
Yet in fact one of my favourite books is
"DRAG: A History of Female Impersonation in the Performing Arts" by Roger Baker.
The book traces the progress through centuries of female impersonation, which began with pageants as far back as 1100. The catalyst proves to have been the Church dramatisations:
'
It all began as an attempt to make the liturgy of the church more intelligible to the largely illiterate congregations', which evolved to incorporate comic routines.
The last day of Christmas (Twelfth Night) became associated with misrule and reversal of order. As the various dramas were completely separated from the Church and responsibility for them was taken over by the local Guilds, each Guild chose episodes most appropriate to their skill (mystery plays) and Bible stories were given sub-plots. Noah's wife in particular, although not imbued with any characteristics in the original story, became a nagging shrew and still stands as a blueprint for countless nagging wives jokes.
Aside from the prevalence of what Baker calls the "Male Actress" in all corners of the world - from the ancient theatres in Japan and China, to the post-war boom of drag acts in Britain, to the trend in American cinema from
Tootsie
to
Mrs Doubtfire
, spreading then to Baz Luhrmann's fantastic
Priscilla Queen of the Desert
and the countless cross dressing comedians, from Benny Hill to Dame Edna, culminating in the revival now of stage musicals:
Priscilla Queen of the Desert
(with Jason Donovan reclaiming the chance he had all those years ago, and possibly going some way to softening the fact that he killed 'The Face' magazine off....), and
Hairspray; The Rocky Horror Show
. What's clear is that never has drag lost its audience. The recent passing of Danny La Rue has brought that point back too.
But if drag is at one extreme, does it filter down to the everyman or will it always be at the periphery, and always under the guise of entertainment?
We must remember Superdrug (UK drugstore) picking up Taxi Man, a brand which excels at punning: "Disguys", the concealer; followed by the now familiar "manscara" and "guyliner". The promo pic was accordingly mainstream, featuring a very heterosexual looking cabbie: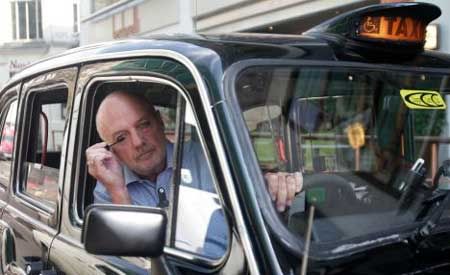 However despite the brand holding up Russell Brand and Robbie Williams as examples of their target audience mainstream appeal, the very use of these jocular terms admits their taboo nature.
Even at the other side of the spectrum, where it seems there are genuine attempts to invite male grooming and vanity to come to the fore (in much the same way as a female consumer may be enticed), there lies a coyness.
Notwithstanding the fact that the term 'makeup' is avoided, replaced by a more vague descriptions such as 'complexion enhancer'; the mascara a 'brow and lash groomer', and packaged in masculine affirming black thick robust compacts, Jean Pual Gaultier, who led the pack, had the press release of his
Monsieur
range as:
'A Monsieur lies hidden in every man. Monsieur is sophisticated and elegant without fuss or complication, but of course not without humour'.
This vital reference to "humour" may be there to relax its male purchaser that it's all just an experiment; a laugh. At the least it acknowledges that these products are usually only to be found at the margins of society and generally associated with rebellious teens, eccentric gay men and cross-dressers.
YSL's famous hero product, Touche Eclat, also seemed to transfer well. It already had a pen design rather than anything too flouncy, so renamed 'L'Homme Touche Eclat" and deprived it of its shiny gold tube (in favour of pewter) YSL used the biggest pleb-magnet - a Big Brother contestant!
Stuart Pilkington as the face of the eyeliner and concealer look: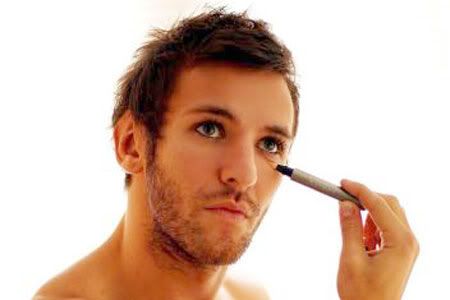 Johnny Depp in his role as a pirate has done much to popularise the eyeliner look, and of course Pete Wentz fancies himself as another male makeup icon.
For a rock look, it seems in keeping with the role. However, this still means male makeup is marginalised.
Clarins male bronzing ranges, and Clinique's, and the countless male skincare products now launching within mainstream drugstore ranges, all attempt to edge closer to a point where men reach for their bronzer, concealer, mascara and lip tint without a moment's hesitation. Companies, after all, could double their market if they could convince men that they, too, were unsightly without make-up.
Before dismissing any likelihood of this,it is worth remembering that up until the 1850s men did openly wear makeup.
Male makeup has a long history, starting with the Egyptians, whose men applied thick eyeliner to ward off the "evil eye." Roman men used chalk-based foundation to brighten their complexions, and, in the 18th century, Louis XV and his court made it highly fashionable for men to wear (often toxic lead-based) makeup and rouge. During the French Restoration in the 18th century, red rouge and lipstick were used to give the impression of a healthy, fun-loving spirit.
Eventually, their preference for excessive makeup led to the jibe that the "painted" French had something to hide. Thus the trend ebbed as it began to be associated with being a rather too dandy sort. Perhaps by adding
L'Homme
or
Monsieur
, these cosmetic houses aim to hark back to a French bygone era?!
It is hard to think that eyeliner on a man will be acceptable outside of the confines of a deliberate artistic flourish, but indeed our times seem to have heralded the return of the dandy:
"Recent reports have revealed that the global sales of men's grooming products reached $19.5bn in 2008. The value of the market in 2009 is estimated to be $21.7bn, an increase of 11.3% as compared to last year.... The desire to look and feel healthy has been driven by male role models such as film actors and sportsmen, and communicated via the huge growth in premium magazines dedicated to men.... As the boundaries between genders continue to be broken down, global companies are expected to find increasingly innovative ways to profit from the evolving characteristics of the male consumer."
1
Is male makeup the last bastion of the gender divide? Will the acceptance of male skincare extend to male cosmetics?? What are

your

predictions and thoughts???