Before I start this post, I wanted to say... yesterday I decided I was going to practise for my entry to MizzWorthy's contest. I had picked out my high fashion inspiration pic :


and excitedly pulled out my Coastal Scents palette. I have only tested this once, and adored it. But I had a massive headache after testing it.

Yesterday, after using a ton of it as part of my futile effort to recreate the look, (replete with beads and sequins no less), I suffered the most excruciating headache and sore throat. I have no idea if the palette is to blame (unfortunately for me, my body thinks it's a millionaire - I suffer bad reactions to any jewellery except 18ct Gold, and now I fear perhaps all makeup except high end?!!) or, if it's just a coincidence and the Spring weather is bringing on some extreme allergy. All I know is, it's really unpleasant and now I'm scared to use my palette ever again. But I have to get my entry in to this amazing contest! - Mind you, Natalya has entered now so chances have been radically slashed. So selfish of her to enter contests - How can mere mortals compete now?!!! If you haven't seen her fabulous entry, it's here.

The other day I went to check out the newest MAC collection (yes, it's that time, again) because Caprig reviewed it, and basically said it was the greatest makeup breakthrough in the history of makeup, ever. And she uttered these dangerous words:
"My husband rarely comments on makeup these days, so when he says something with enthusiasm, I tend to pay attention. He was amazed at how much younger I look with just Mineralize Skinfinish on and no foundation at all."
Anyone who says anything about products that make you look so young that even a dopey husband can tell (this is me inferring of course!), well I have to take note. I have become aware of my visible frown lines, to the point where I am seriously wondering about Botox. So off I went to check out "This Fountain of Youth" (her words).
Perfect Topping is a pale peachy shade, despite all the veining. I must take issue with MAC for making their products all veiny and swirly, so it looks like something utterly unique, but in truth most times the end result is no different to a straight-up pale peach highlighter or equivalent. So it was with this: it is categorically a highlighter (I have heard it called a blusher, but on my pale skin it is too light for that) and it is, although finely milled and smooth, still rather sparkly and glimmery. I think a humble pale shimmer eyeshadow would suffice for basic cheek highlight purposes, so I didn't pick it up.
Then off I went to check out the Line filler prep and prime new tube, part of the other new collection 'Colour Ready'. But it reeks of gimmick, too reminiscent of my experiences with Too Faced wrinkle injection and the Prescriptives line filler tube. Has anyone tried this new Prep and Prime?? I passed on all of MAC's new offerings, although I picked up the matte Bronze which I really like (permanent item).
I am desperate for Estee Lauder's new collection to come out, those bright blues look stunning. And by the way the new Double Wear cream eyeshadows are amazing! They are all shimmery, so I am hesitating, as I prefer matte, but they seem better than paint pots, my swatches took a great deal of rubbing before they vanished! Estee Lauder is my fave. They are £13.50 so not much more than MAC.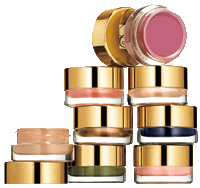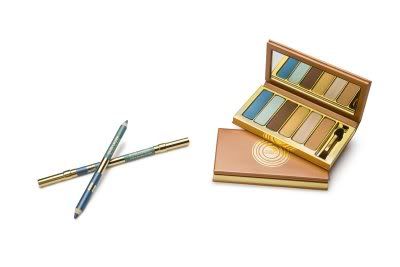 Anyway, and now, thanks to being inspired by
Aestheticcoo
, here is a glimpse of my make up bag. Because I wear great long-wearing stuff (EL Double Wear fdtn) and UDPP, usually I never even dip into my bag so it's very much there mainly for comfort value. But here it is:
please can YOU do one too!!!!

I keep it all in a see-through zip up case -- VERY useful!! - I also don't have anything too precious in there, mainly small GWP so I don't weigh myself down!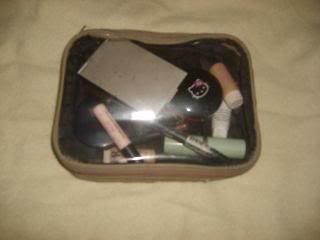 Contents out: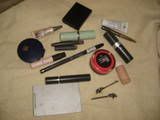 Contents explained:
The Sephora retractable brush is surprisingly good! And the clips are essential for my horrible haircut.

Popster is a great colour, but not half as moisturising as 8 hr cream!

I have always felt this little case offers everything I need.