To
my disappointment, not everyone prefers to look like an extreme catwalk creation when it comes to makeup. Getting the compliment, "You look beautiful" seems more appealing than, "Wow your makeup looks amazing!" in other words.
I had 21 votes, thanks to all who voted! So the breakdown is up for you to see. Double the people who chose colourful looks chose neutral. However if one combines the people who voted for "Colourful looks, always!" with "Colour in principle, but not on me" then we can stay equal with those who say " glowy natural beauty"... However that is to bend the rules somewhat. Although 5 said they had no standard, it seems pretty clear that "Glowy natural beauty" is what most consider their priority, if pushed to choose. And nowhere was this more clear than at this year's Oscar's.
Indeed, Reese Witherspoon, who uncharacteristically went for a smokey blue eye to match her, ahem, "forward looking" dress (to quote 'People') recived scorn- perhaps not rashly for her visble 'transparent' straps, but surely the eyes were ok?! No,
too much
.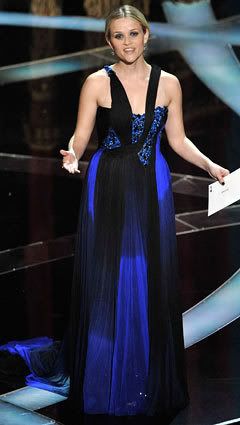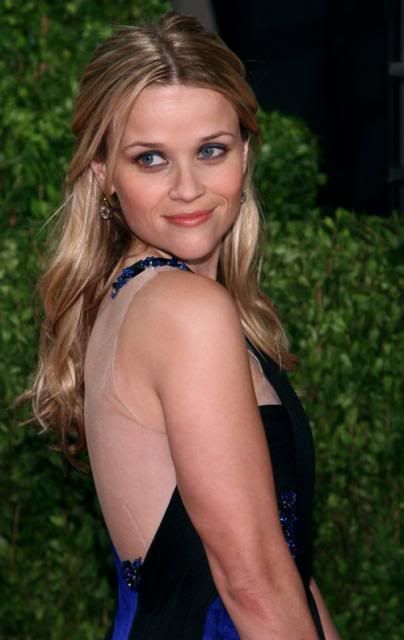 This year more than previous years, it seems bronzed skin is out; porcelain is in. No one takes this to more extremes than Anne Hathaway. She has a funny face. But anyway, she matched her dress to her skin and came up with a fool-proof Oscar look. Marisa Tomei in my view arguably looked the best, her deltoids looked fab and the dress was modern yet classic. Penelope Cruz did her thing, and looked pretty in those gowns she wears so well. Her makeup too was typical: bronze eyeshadow and heavy black eyeliner. No need to fix it if it ain't broke, and so on.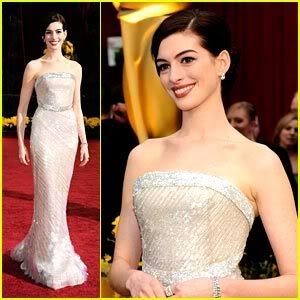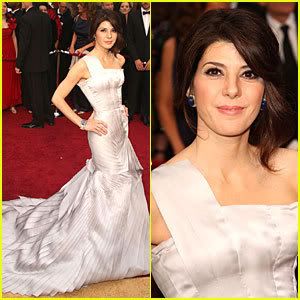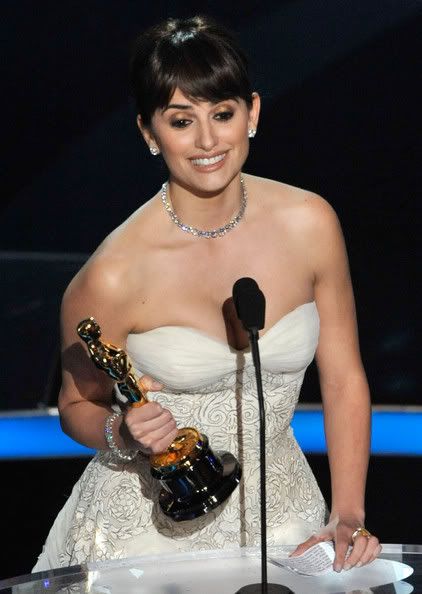 The only colourful shadow, aside from Reese Witherspoon's matching her makeup to her dress, was Natalie Portman (lilac) breaking the cardinal rule, and Sarah Jessica Parker (blue green to match her couture dress, which was, as she put it,"barely mint").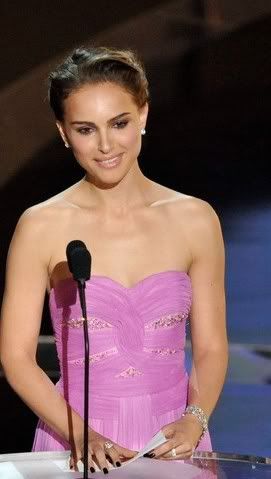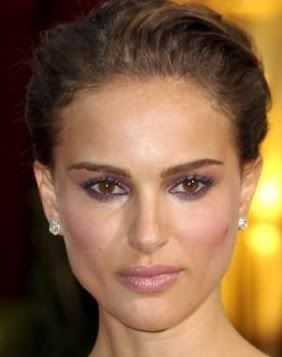 (Natalie Portman unwisely breaks the cardinal rule and goes for lilac makeup to match her dress)
Tilda Swinton has not renewed her decision to go to the biggest night of the year without a scrap of makeup and shrouded in a bin bag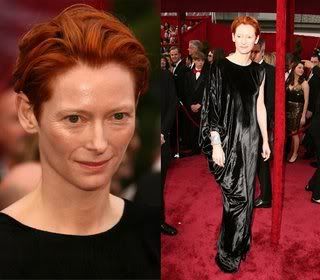 (
Tilda Swinton Oscars 2008, no makeup)
well, at least, some of that is true: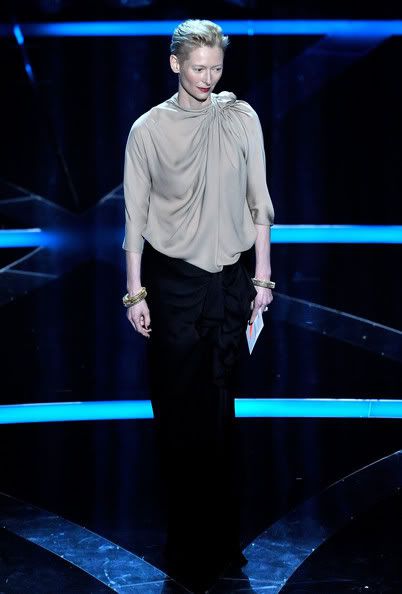 and actually looked like her makeup was more visible than many others' this year. Not sure what she has against mascara??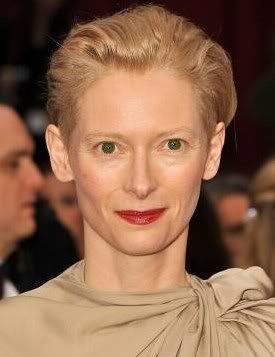 Well, you could see lipstick. (We all know Tilda Swinton, Helena Bonham Carter and Chloë Sevigny all have license to do their own thing without being judged.)


Nicole Kidman also had visible classic style makeup- discreet dark eyes, red lips, blushing cheeks; Marion Cotillard had vampy dark lips and dark lined eyes.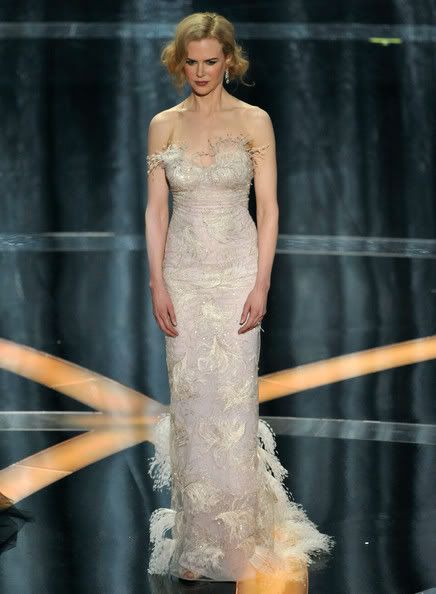 (Marion Coutillard last year with bronzed skin and silver eyeshadow; and this year in navy with porcelain skin and dark lips.)
But the majority of looks conformed to natural glowy makeup, almost imperceptible. Kate Winslet, Frida Pinto, Marisa Tomei, Beyonce Knowles (yucky dress, no doubt her own House of Deleon creation), Heidi Klum, Angelina Jolie (who let her jewellery do the colour) all fell into this category. This makes sense on two levels: 1, most importantly, so that they and not their makeup artist, receive credit for looking stunning; and 2, to allow their elaborate gowns and jewellery to shine.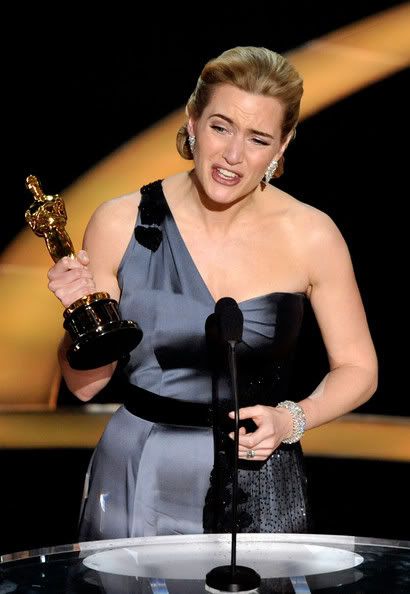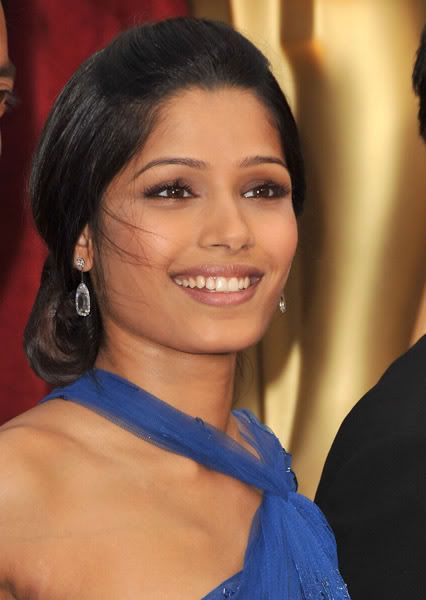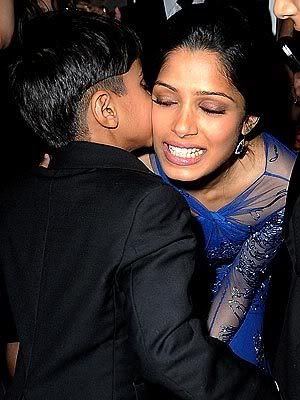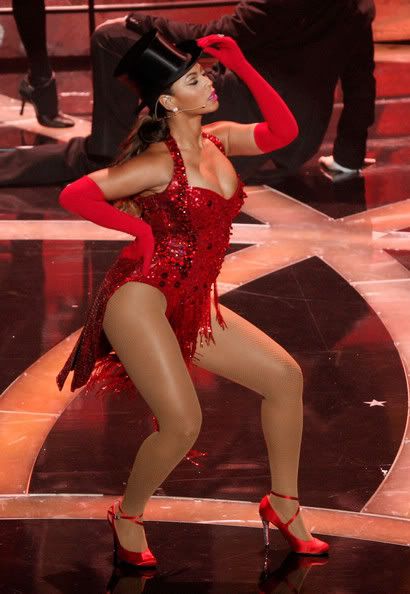 (Beyonce in her performance makeup, pink lips, contoured eyes and lips, and below, in her natural understated makeup)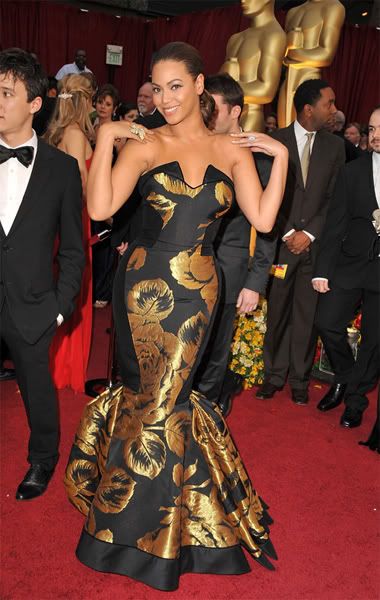 Meryl Streep went almost self-consciously natural in her makeup, and intensified this by her grey dress.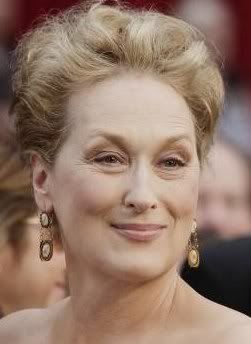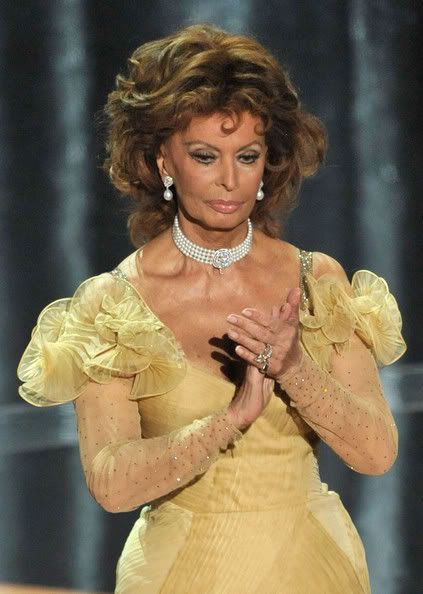 I prefer the way Sophia Loren clung on to her signature sultry cat eyes and showed some cleavage and colour! Their different approaches are stark when you see them posing together.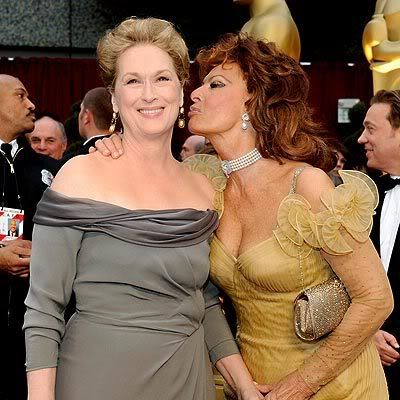 Miley Cyrus wore like a bad version of the fabulous gown Marion Cotillard wore to great aclaim last year. On last year's Jean Paul Gaultier design, the dress had a fish scale quality that was quirky, yet on Miley this Zuhair Murad dress looks grotesque- those huge scales- I think she is just too young for it so it made it look a bit like what Ariel might wear if A little Mermaid came to a panto near you. It looks good on the catwalk, perhaps hair down helps?? Anyway it didn't work. Her makeup was very neutral and unremarkable though.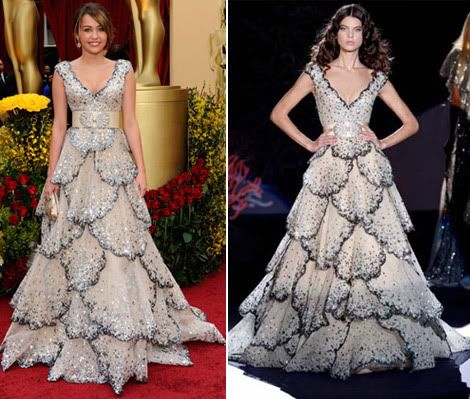 Another bad version of last year's dress came from Heidi Klum: last year she looked incredible in her Dior red dress. Red is her colour, but this year's Roland Mouret design paled in comparison-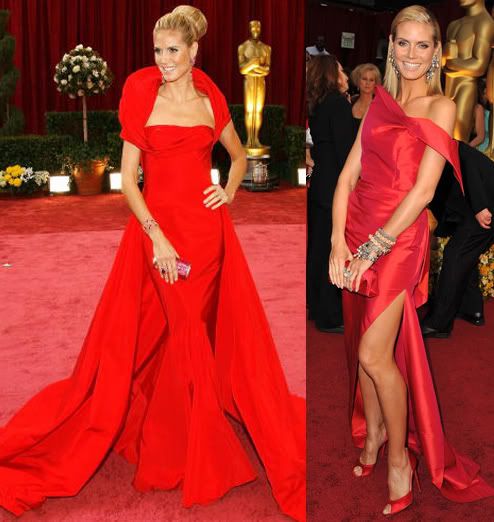 (Last year left and this year, right)
The fabric, the thigh split, it looked less glamorous...
Makeup the same as last year. Afterall, like Jennifer Aniston, they pull off the sunny natural beauty to perfection.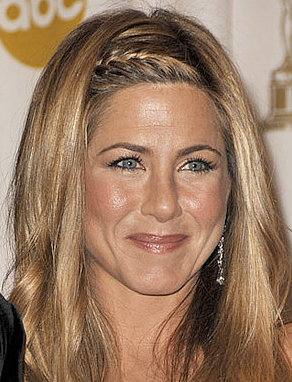 (Jennifer Aniston, just keeping within the bounds of beachy makeup to look effortlessly glowy beautiful and elegant)
My favourite Oscar makeup has to be Audrey Hepburn though....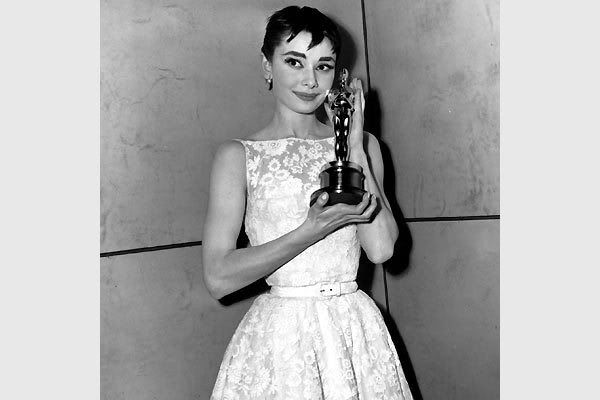 ....What about YOU? Thoughts on this year's Oscars makeup??